A few days ago a friend of mine tweeted me and asked me if I had any ideas on what to do with spaghetti squash. She was cooking it for the first time and wanted some help.
Of course my mind went blank. Sorry Peaches. It has been years since I did anything with spaghetti squash. A lot of years! I remembered my father used to make bread with it. Also you can use it like pasta, which is what Peaches ended up doing.
So I told Peaches I would do a post on the many uses of spaghetti squash. Here it is.
Via Wikipedia: The spaghetti squash (Cucurbita pepo) (also called vegetable spaghetti, noodle squash, spaghetti marrow, and squaghetti) is an oblong seed-bearing variety of winter squash. The fruit can range either from ivory to yellow or orange in color. The orange varieties have a higher carotene content. Its center contains many large seeds. Its flesh is bright yellow or orange. When raw, the flesh is solid and similar to other raw squash; when cooked, the flesh falls away from the fruit in ribbons or strands like spaghetti.
Spiced Spaghetti Squash with  Walnuts
Prepare one small to medium squash. Separate strands with fork and set aside.
 In a large shallow frying pan, heat up 2-3 TBSP unsalted butter. When thoroughly melted, add the following:
Approximately 1 tsp each salt and pepper
Approximately ½ tsp. each fresh ground nutmeg, ground coriander
Approximately ¼ tsp or a pinch each of cinnamon, ginger, crushed red pepper
Approximately ½ cup walnuts, coarsely chopped
Sauté for a minute or two until walnuts barely begin to turn golden and fragrant and add strands to pan. Mix thoroughly and cook for just a minute. Serve immediately. If desired, sprinkle with parmesan cheese.
Recipes by Denise Birdsall
ASIAN SPAGHETTI SQUASH
Ingredients
2 (2 1/4-pound) spaghetti squash
1 clove garlic
2 tablespoons sesame or olive oil
2 tablespoons vegetable oil
2 tablespoons rice wine vinegar
2 tablespoons soy sauce
1 teaspoon sugar
1/2 to 1 teaspoon dried crushed red pepper
1/2 cup sliced green onions
1/2 cup grated carrot
1/2 cup snow pea pods, cut lengthwise into thin strips
2 tablespoons sesame seeds, toastedDirections

1 Cut squash in half lengthwise; remove seeds. Place squash, cut side down, in a shallow baking dish or pan. Add water to dish to depth of 1/2 inch.

2

Bake at 375° for 45 minutes or until skin is tender and strands may be easily loosened with a fork. Drain and cool slightly.

3 Position knife blade in food processor bowl; add garlic, and process until finely chopped, scraping down sides, if necessary  Add sesame oil and next 5 ingredients. Process garlic mixture until blended, stopping once to scrape down sides. Set garlic mixture aside.

4

Remove spaghetti-like strands of squash, using a fork; discard shells. Combine squash, green onions, carrot, and snow peas in a large bowl. Add garlic mixture; toss gently. Sprinkle with sesame seeds. Serve immediately.
Stuffed Squash Boats
2 medium spaghetti squash (2 to 2-1/2 pounds)
1 pound ground beef
1/2 cup chopped onion
1/2 cup chopped green pepper
1 cup sliced fresh mushrooms
2 garlic cloves, minced
2 teaspoons Italian seasoning
1/2 teaspoon salt
1/8 teaspoon pepper
2 small Roma tomatoes, diced and seeds removed
1/2 cup shredded mozzarella cheese
1.  Cut squash in half lengthwise; scoop out seeds. Place squash, cut side down, in a baking dish. Fill pan with ½ inch of hot water. Bake, uncovered, at 375°F for 30-40 minutes or until tender.
When cool enough to handle, scoop out squash, separating strands with a fork. Set the shells and squash aside. In a skillet, cook beef, onion and green pepper over medium heat until meat is no longer pink and vegetables are tender; drain.
Add mushrooms, garlic, Italian seasoning, salt and pepper; cook and stir for 2 minutes. Add diced tomato; cook and stir for 2 minutes. Add squash; mix well. Cook, uncovered, until liquid has evaporated, about 10 minutes. Fill shells; place in shallow baking dish.
Bake, uncovered, at 350°F for 15 minutes. Sprinkle with cheese; place back in oven and bake 5 minutes longer or until cheese is melted.
Spaghetti Squash, Shaved Fennel and Warm Apple Salad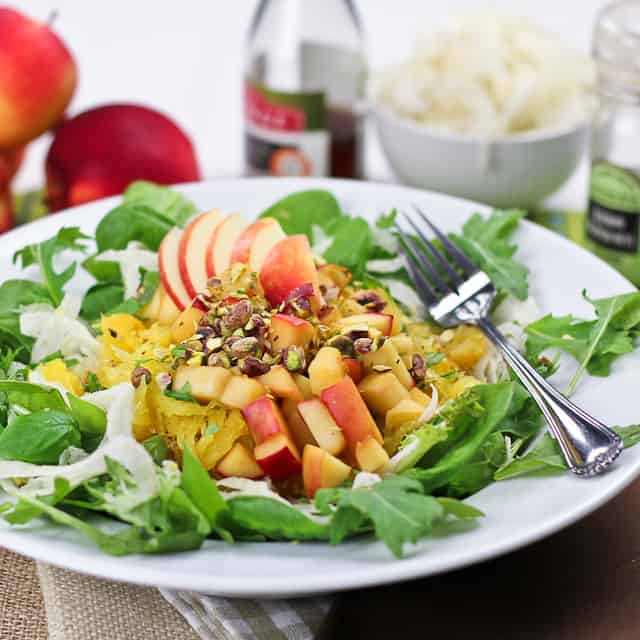 INGREDIENTS
2 cups mixed greens
250g spaghetti squash, cooked and cooled (warm would also work)
100g fennel, shaved (a mandolin comes in real handy here)
1 Royal Gala apple, peel on, diced (or other red apple of your choice)
30 pistachios, chopped
2-3 tbsp cider vinegar
2 tbsp fresh basil, finely chopped
Dash of Himalayan or fine sea salt
Generous sprinkling of freshly cracked black pepper
INSTRUCTIONS
Arrange mixed green at the bottom of a shallow bowl. Sprinkle fresh basil all over the greens.
Top with shaved fennel, followed with spaghetti squash
Cook apple in a non-stick pan over medium-high heat for one minute of two, just enough to soften and warm it up a bit.
Add about two tablespoons of cider vinegar to the apple and continue cooking until the vinegar is completely evaporated. Add apples to the top of your salad.
Top with chopped pistachio, drizzle a little bit more vinegar if desired and sprinkle salt and pepper to taste.
SPAGHETTI SQUASH BREAD

1 1/4 c. flour (for gluten-free use your favorite gf flour mix)
4 tbsp. brown sugar
1 tsp. baking soda
1/4 tsp. cinnamon
1/4 tsp. nutmeg
1/4 tsp. allspice

1/4 tsp. ground cloves
Dash salt
2 med. eggs
2 tbsp. oil
1/4 c. orange juice
2/3 c. spaghetti squash strands, cooked
2 tbsp. raisins

Stir together well, flour, sugar, baking soda, spices and salt. Set aside. Beat together, eggs, oil and juice, gradually beat dry ingredients mixture into egg mixture. Stir in squash and raisins. Pour batter into 9 x 5 inch non stick loaf pan that has been sprayed with cooking spray. Bake at 350 degrees for 40 minutes until golden brown. Makes about 20 slices, 65 calories each.
Tagged: best recipes, cooking, dinner, food, gluten free diets, gluten free recipes, gluten-free, health, ingredient, recipe, recipes, Spaghetti squash